Platinum Plus Warranty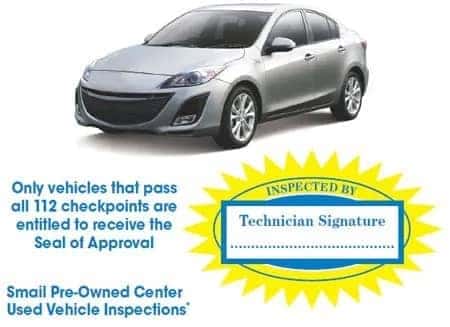 The process requires 112 tests designed to ensure that interior and exterior mechanical and electronic components perform as designed. Factory-trained technicians recondition each vehicle to our exacting standards.
Air Conditioning /Heating Systems
A/C cooling operation at specification.
Check A/C and heating fan operation.
Heater and defroster work properly.
Brake System
Inspect brakes.
Inspect for brake fluid leaks.
Parking brake sets and holds vehicle.
ABS operates on "panic stop."
Brake fluid at full mark.
Brake pedal free play and travel per specification.
Disc brake pad minimum: 4/32
Drum brake shoe-lining thickness minimum: 3/32
No excessive grooving or heat checking of rotors or drums.
Parking brake releases completely.
Chassis
Check frame.
Inspect underbody for damage.
Cooling & Fuel System
Inspect for fuel leaks.
Inspect for coolant leaks.
Engine coolant level at specification with cold engine.
Drive Axle
Differential fluid level correct.
No visual damage to axle housing.
No visual damage to drive shafts.
No damage to CV joint boots.
Engine
Change engine oil and filter
Cold engine operation normal.
Cold high idle correct.
Drive belt tension at specification.
Drivability OK during warm-up.
Engine reaches normal operating temperature
Hot drivability normal.
Inspect exhaust systems and hangers for leaks or damage.
Inspect for oil leaks.
Inspect for water bottle leaks.
Inspect lower body side for damage.
No excessive drone or vibration from engine or driveline.
Perform vehicle emissions testing as required by local and state laws.
Throttle does not stick shut on cold start.
Electronic System
Battery cables clean and serviceable.
Battery mount secure.
All wiper speeds work correctly.
Convertible top operation lockout function is OK.
Cruise control operation normal.
Intermittent wipers work correctly.
Power windows operate from master switch and all door switches.
Rear defogger indicator light turns on with switch ON.
Sunroof or convertible top operation normal through full range of positions.
Windshield washer operates.
Wipers return to correct park position when turned off.
Luggage Compartment
Inside trunk remote release operates normally.
Jack and tools are correct and secured.
Spare tire in safe condition.
Spare tire pressure correct.
Trunk latch works.
Trunk light works properly.
Steering
No excessive tire vibration or steering wheel shimmy at any speed.
Power steering fluid level at full mark.
Steering operation has normal feel.
Steering wheel centered in straight-line driving.
Vehicle tracks and drives straight on level surface.
Taillights working with no cracks or broken lenses.
Wheel covers, caps secure with no cracks or broken mount tabs.
Exterior
Backup lights working with no cracked or broken lenses.
Brake lights working with no cracked or broken lenses.
Bulbs are not cracked and have no moisture or condensation behind lens.
Gas filler door remote release operates normally.
Headlight alignment is OK.
High and low beams of headlamps work correctly.
License plate lights working with no cracked or broken lenses.
Mirrors have full range of adjustment.
Trailer hitches & running boards are secure.
Outside rearview mirror power or manual operation OK.
Side marker lights working with no cracked or broken lenses.
Turn signals operate and self-cancel with steering wheel operation function.
Seat belt indicator tab is intact with no tears or broken stitching.
Seat belts have full range of extension and smooth operation.
Seat belts lock up per specification.
Seats operate normally, including recline, lumbar and cushion adjustments.
Warning lights ON with key ON, engine OFF.
Windows operate normally.
Driver's door window lock functions properly.
Interior
"Fade-away" dome lights work OK with ignition key OFF.
Ashtray clean and operates normally.
Audio/cassette/CD system working normally.
Clock works and keeps time.
Cup holder extends out completely and provides adequate support.
Dash light dimmer working.
Day-night mirror operates OK.
Dome/courtesy lights work, including operation for each door opening cycle.
Door-locks operate, including child safety locks.
Doors open and close correctly.
All alarm systems work properly.
Glove box door works properly.
Fuel gauge reads correctly.
Heater lights working.
Hood latch works.
Horn works.
Instrument lights working.
Turn signals operate and self-cancel with steering wheel operation function.
Radio SECURITY codes cleared.
Radio speakers do not rattle at high-volume settings.
Suspension
Minimum 4/32″ tire tread remaining.
Tires on the ground are same size and load rating.
No tire damage, bulges or cupping.
No missing valve stem caps.
Shock absorbers exhibit no excessive wear or leakage.
Struts exhibit no excessive wear or leakage.
Tire pressures set to specification.
Transmission
Auto transmission park position and shift lock function properly.
Clutch fluid level at full mark.
Clutch operates smoothly with no abnormal noise or vibration.
Transfer case switches from 2WD to 4WD upon demand and 4WD to 2WD smoothly.
Transmission and transfer case fluids are correct.
Transmission does not shift into overdrive when button is in OFF position.
Transmission operates smoothly with no abnormal noise or vibration.
* Tests approximate based on vehicle
content and if equipped.
Learn More