Community Involvement- Smail Cares
Smail Auto Group is dedicated to giving back to the community. We proudly support the following organizations as they continue to make a tremendous impact for all the people involved. Since 2011, Smail Auto Group has donated over two million dollars to these and various other non-profits.
Our Smail Cares campaigns feature three primary categories: Military support through Feherty's Troops First Foundation in partnership with David Feherty, Breast Cancer Awareness, and ending/reducing hunger through our local Westmoreland County Food Bank.
Feherty's Troops First Foundation
Feherty's Troops First Foundation works to provide meaningful assistance to our military who have been wounded while serving in Iraq and Afghanistan. Through several relevant and unduplicated programs along with specialized events designed for combat-wounded service members and their families, Troops First addresses relationship building, mentoring, reintegration and looking forward. Some of these programs include – Warrior Call shares resources and provides a call to action – all in an effort to decrease both veteran and active-duty military suicide. Utilizing Medal of Honor recipient, MSG (R) Leroy Petry as their national spokesman, the Foundation has embarked on an aggressive national tour of military bases and military-centric events in their mobile Warrior Call Command Center. Make a call…Answer a call…Be honest. The Leroy Petry Village of Honor is a transitional housing program located not far from Walter Reed National Military Medical Center that consists of seven single-family accessible homes. These homes are available to Warriors and their families who are transitioning out of the military after injuries sustained in combat. Operation Proper Exit coordinates unique opportunities for service members to go back and witness firsthand the progress in Iraq or Afghanistan that they, through their tremendous sacrifice, helped bring about. It provides a sense of closure and lets them leave the battlefield on their own terms. Since its launch, 24 trips have been made overseas. And lastly, 24-7 Battle Buddies is a service dog program that matches canines to wounded military Veterans who have served in Iraq and Afghanistan. Each 24-7 Battle Buddy is carefully selected for their partner. The training is then specific to the Warrior's needs and intended to assist in successfully navigating everyday life. To date, there are 42 dogs working with their battle buddies across the country. For more information visit: www.TroopsFirstFoundation.org
Breast Cancer Awareness
Every October during national Breast Cancer Awareness month, Smail Auto Group donates to charities that impact women and families with cancer on a variety of levels, including research and awareness, early detection, patient support programs, hair replacement options and scholarships. Our signature Pink Ribbons displayed in various creative formats on our buildings and vehicles along Route 30 in Greensburg inspire awareness and hope in Westmoreland County.
Magee Womens Research Institute & Foundation
Magee-Womens Research Institute and Foundation, located in Pittsburgh, is the largest research institute in the U.S. devoted exclusively to women's health research and they impact lives every day. They are originators of fundamental research that inform health care innovations all over the world. They work with research and academic institutions from Boston to Bangkok, from San Francisco to Sidney, from Bueno Aires to Beijing. At Magee-Womens Research Institute & Foundation, they see a better, healthier world in which women's health has the scientific prominence and cultural status it deserves.
www.mageewomens.org
Westmoreland Walks
Westmoreland Walks, Inc. was created in the year 2002 by a group of women who were touched by breast cancer in some way. Some battled the disease, and some stood by a friend during the fight. Wanting to contribute toward breast cancer research and do something to help women during and after a breast cancer diagnosis, the idea of the walk was born. Held in early October, funds raised through these walks are donated to the following organizations: Pennsylvania Breast Cancer Coalition, Spa Serenity Day, Pink Ribbon Scholarship, and the Pink Angel Fund. Westmoreland Walks – "Finding a cure now…so our daughters and granddaughters won't have to."
www.westmorelandwalks.org
The Pink Pamper
The Pink Pamper is Pittsburgh's preeminent cancer-related non-profit with 13 years of experience raising money in support of improving the lives and well-being of women impacted by the devastating and life-altering effects of a cancer diagnosis. Their featured fundraiser, "The Bubble Ball," supports the Halo Fund which was established to help women who have experienced the trauma of hair loss due to chemotherapy. Funds raised provide financial assistance in the form of a $350 voucher towards the purchase of a beautiful, natural-looking wig at Hair Enhancements of Pittsburgh. This is vital to these women because when a woman's hair (her halo!) is restored, she experiences the very important benefits of increased self-confidence, improved health and even a more positive outlook about the future. Plus, Hair Enhancements of Pittsburgh, the exclusive partner in this effort, carries an assortment of helpful accessories including hats, turbans, scarves, hair products and wig supplies in addition to the best synthetic and human hair wigs currently available. www.pinkpamper.org/halo-fund
American Cancer Society, Real Men Wear Pink
Smail Auto Group partnered with the American Cancer Society in 2017 to support their Real Men Wear Pink campaign. Since then, three Smail men have accepted the challenge to raise awareness and money to support the American Cancer Society's mission. Karl Schneider, Jeff Smail, Jr. and Marcus Smail have participated and raised a combined total of $33,149. Custom t-shirt campaigns, a cornhole tournament, along with company, customer, and employee donations helped them achieve their fundraising goals. Every dollar raised helps the American Cancer Society save lives from breast cancer through early detection and prevention, innovative breast cancer research, and patient support. www.Cancer.org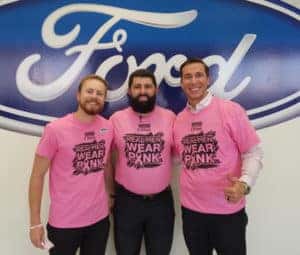 Westmoreland County Food Bank
On your mark, get set, go! In 2018, we relaunched and renamed our annual food bank campaign, the "Smail 500 Food Drive – Race for the Cup". With some friendly competition, our goal is to feed 500 families for the holiday season and see which store can "race" to the finish line with the most items collected in predetermined categories each week. Smail Auto Group employees from all 9 store locations designate crew chiefs to rally their team members and collect nonperishable items for the Westmoreland County Food Bank. The results since the revamp have been stellar. The Westmoreland County Food Bank stated, "Smail Auto Group owns the title for the largest food drives by a corporation to date with over 30,000 pounds of food in 3 years". We are so incredibly proud of all of our Smail locations for collecting food for local families in need! Smail Auto Group also made a generous $25,000 donation in July  during the pandemic to provide for area families.  www.westmorelandfoodbank.org/
Other important organizations we support include…
Westmoreland County Community College Educational Foundation
Established in 1986, the Westmoreland County Community College Educational Foundation is dedicated to the mission, vision, and values of Westmoreland through community awareness, advocacy and financial support for our college and the community we serve. Future leaders, taxpayers, parents, and residents of our region can be found right now walking the halls of our college, sitting in the classrooms, and developing their futures. Many of Westmoreland's students (97%) can be expected to stay right here at home, building a strong and vibrant regional economy. Our students are the future of Westmoreland, Fayette, and Indiana counties. www.westmoreland.edu/
Westmoreland Cultural Trust
Westmoreland Cultural Trust is a 501(c)3 nonprofit organization whose mission is to stimulate cultural and economic development in the Westmoreland County region. They promote the performing arts; preserve and enhance the region's assets for the benefit of the community. Smail Auto Group is proud to be a corporate partner and support variety of WCT events throughout the year. www.thepalacetheatre.org/westmoreland-cultural-trust/