The Annual Smail 500 Food Drive for the Westmoreland County Food Bank
🏁 Ladies and gentlemen, start your engines! It's almost time for the 2021 Smail 500!

🏆 The Smail 500 is Smail Auto Groups annual food drive that benefits the Westmorland County Food Bank. Last year, Pre-Owned Center II claimed the top spot and all together, we were able to collect over 9,000 pounds of food for the Food Bank, feeding over 150 local families!
This year throughout the month of November, we will be collecting non perishable food items at each of our nine Smail locations. The location with the most donations at the end of the race will get the coveted Smail 500 Trophy and bragging rights for the year!
Each week will feature a different category of food items that the Food Bank needs. Every Thursday we will come around to tally up the totals and see which location is in the lead.
The weekly categories are:
Week 1 – Canned Fruits, Vegetables, and Soups
Week 2 – Canned Meats and Meals
Week 3 – Boxed Meals and Cereals
Week 4 – Peanut Butter (minimum 16oz)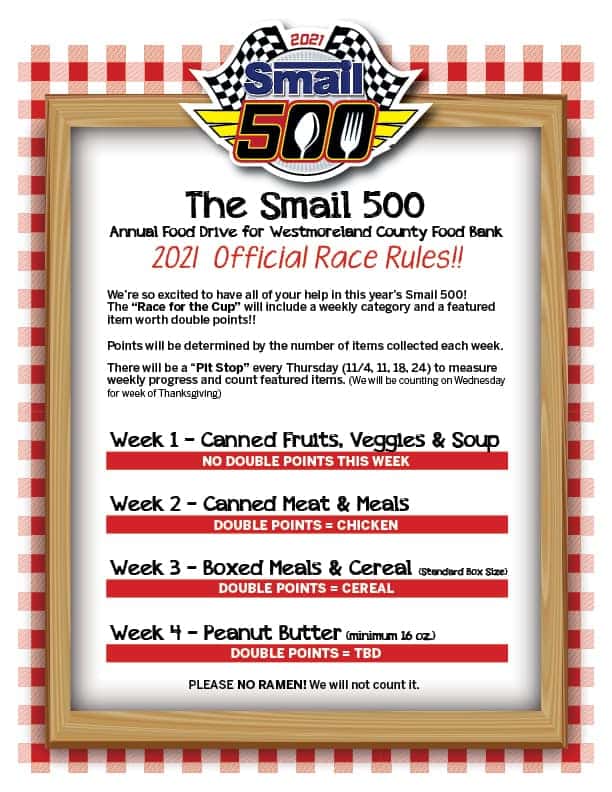 Catch up on last years Smail 500 Race here: