Smail Auto Group: Feherty's Troops First Foundation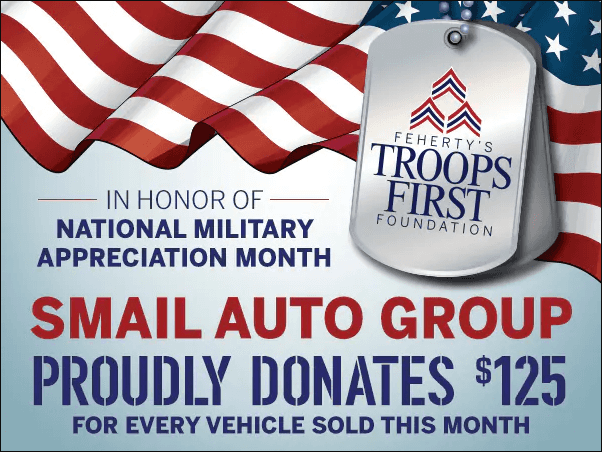 Feherty's Troops First Foundation consists of 4 important initiatives that provide housing to wounded veterans and their families, establish valuable connections among service members to give them a critical support network in an effort to combat the veteran suicide crisis, coordinate a unique opportunity for service members to leave the battlefield on their own terms, and provide service dogs to assist in everyday life.
The Leroy Petry Village of Honor is a transitional housing program located not far from Walter Reed National Military Medical Center that consists of seven single-family accessible homes. These homes are available to Warriors and their families who are transitioning out of the military after injuries sustained in combat.
We are happy to report that our village is currently fully occupied by several deserving Warriors and their families striving to reintegrate back to civilian life!
Warrior Call continues to be the Foundation's benchmark initiative for increasing awareness, sharing resources and providing a call to action – all in an effort to decrease both veteran and active duty military suicide.
Utilizing Medal of Honor recipient, MSG (R) Leroy Petry as our national spokesman, the Foundation has embarked on an aggressive national tour of military bases and military-centric events.
We have added a mobile Warrior Call Command Center that will travel on tour and be the focal point for this initiative. Make a call…Answer a call…Be honest.
Operation Proper Exit coordinates unique opportunities for service members to go back and witness firsthand the progress in Iraq or Afghanistan that they, through their tremendous sacrifice, helped bring about. It provides a sense of closure and lets them leave the battlefield on their own terms. Since its launch,
24 trips have been made overseas!
24-7 Battle Buddies is a service dog program that matches canines to wounded military Veterans who have served in Iraq and Afghanistan. Each 24-7 Battle Buddy is carefully selected for their partner. The training is then specific to the Warriorís needs and intended to assist in successfully navigating everyday life. To date, we have 42 dogs working with their battle buddies across the country!
Small disclaimer: Feherty's Troops First Foundation Incorporated is exempt from federal income tax under section 501(c)(3) of the Internal Revenue Code. The tax identification number for Troops First Foundation is 26.3494079. More than 90% of every dollar goes directly to support these initiatives.