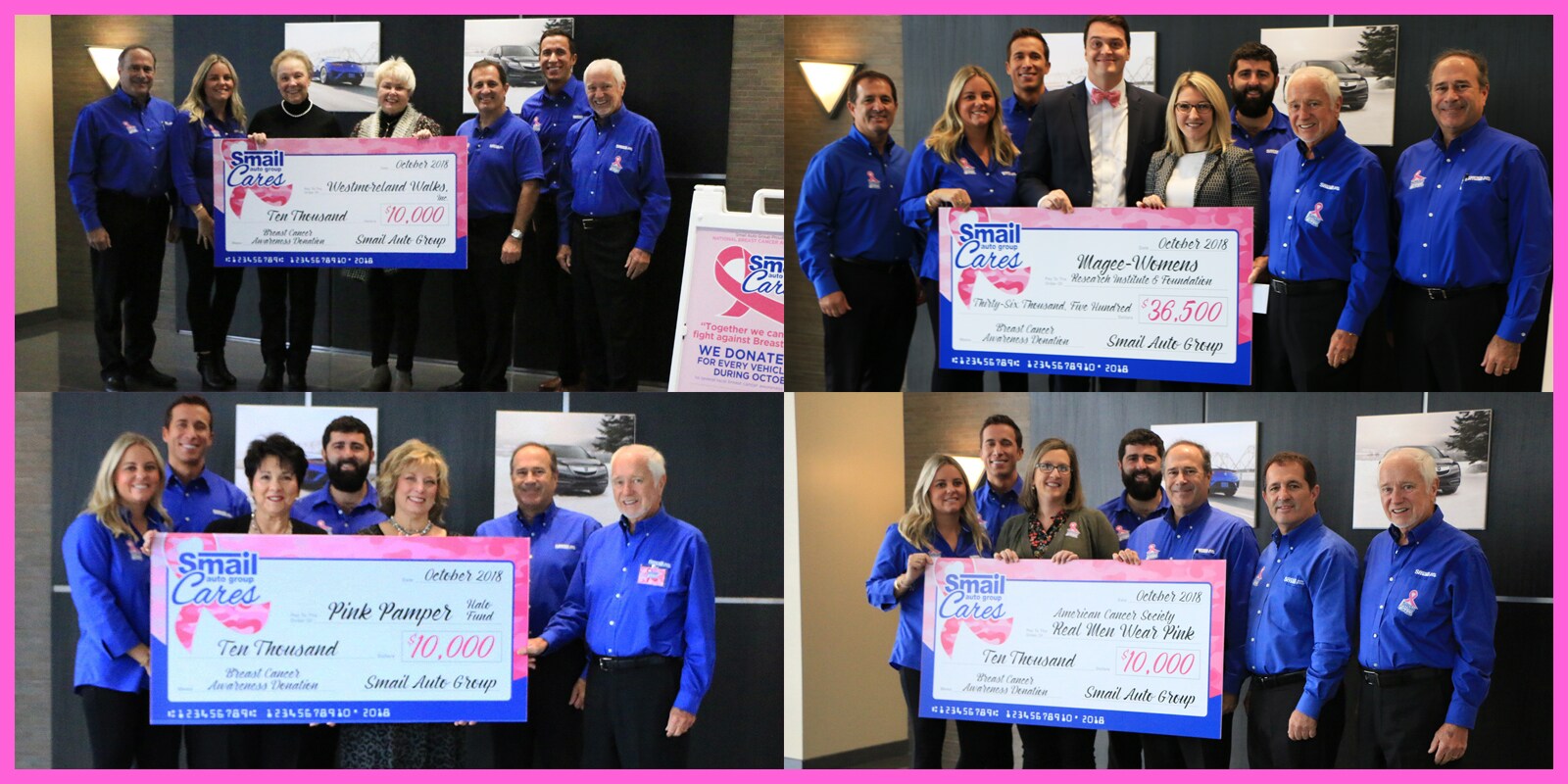 The 2018 Smail Cares Pink Campaign raised a total of $66,500 for local breast cancer charities, $125 for for every vehicle sold by Smail Auto Group during the month of October. Representatives from those organizations were awarded their checks by the Smail family this week.
This year included $10,000 donations to The Pink Pamper, accepted by Marian Geisler and Lea Ann Rattigan; $10,000 to American Cancer Society's "Real Men Wear Pink," accepted by Dawn Keefer, Senior Community Development Manager; $10,000 to Westmoreland Walks, accepted by Kathy Brown, President and Cheryl McMullen, Treasurer; and a $36,500 donation to Magee Womens Research Institute & Foundation, accepted by Cara Kassabov, Interim VP, Development and Troy Treanor Director, Women's Cancer & Specialty Services at UPMC.
American Cancer Society – Real Men Wear Pink
Real Men Wear Pink of Westmoreland County is a distinguished group of community leaders determined to raise awareness and money to support the American Cancer Society's mission and save more lives than ever before from breast cancer.
This year, Karl Schneider was selected to participate, raising a total of $11,929 with his campaign. The Westmoreland County group exceeded their fifty thousand dollar goal and raised a total of $85,462, a new record high for the team.
Over $1000 was raised at "Cars and Cornhole for a Cause!" a 2-person, double-elimination cornhole tournament fundraiser for the American Cancer Society. The event was hosted at Bud Smail Motor Cars, LTD on Wednesday September 26th.
The Pink Pamper
The Pink Pamper is a non-profit organization of women raising awareness as well as funds for women's health initiatives. The Pink Pamper HaLo Fund benefits individuals who experience hair loss due to medical conditions, by providing support and financial assistance toward hair replacement options.
This year a "Day of Pampering" was coordinated by The Pink Pamper. On Tuesday October 2nd, area salons and hair dressers set up at Smail Auto Group service locations to raise money for local women battling cancer.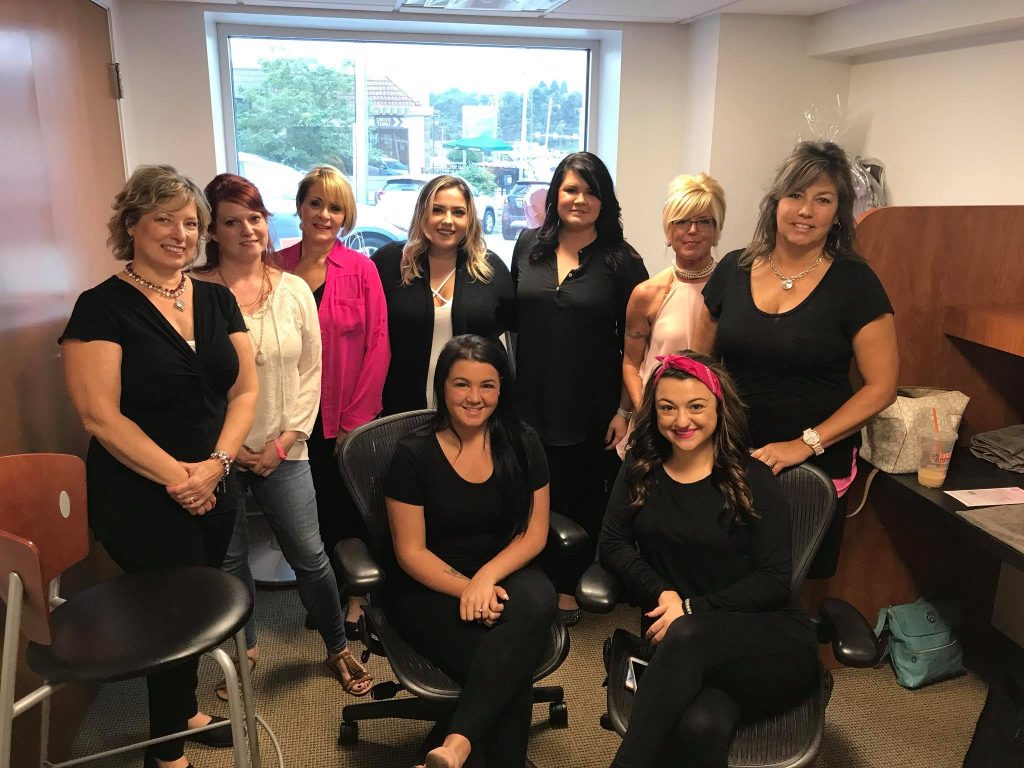 Westmoreland Walks
Westmoreland Walks is a breast cancer awareness charity that organizes the annual "Pink Ribbon Walk" Taking Steps Against Breast Cancer at Twin Lakes Park in Westmoreland County. Throughout the year they also work with the Pennsylvania Breast Cancer Coalition, Spa Serenity Day, Pink Ribbon Scholarship, and the Pink Angel Fund.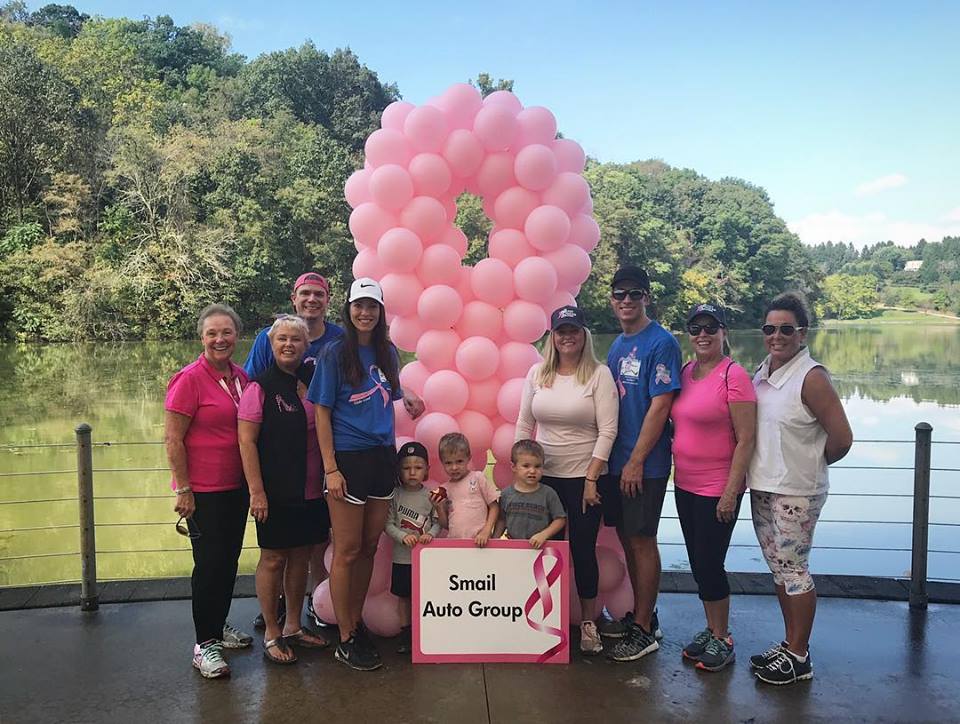 Magee Womens Research Institute & Foundation
Magee-Womens Research Institute is the largest independent research institute in the U.S. focused solely on women's health research. Its research scientists are engaged in health research that spans reproductive biology and development and diverse aspects of women's health.

?Pink Terrible Towels at Pittsburgh Steelers Breast Cancer Awareness Game
Employees of Smail Ford and Smail Auto Group were on hand Sunday October 7th at Heinz Field to help distribute Pink Terrible Towels! All fans attending this Breast Cancer Awareness Game received a Pink Terrible Towel to cheer on the Black & Gold to a 41-17 victory!