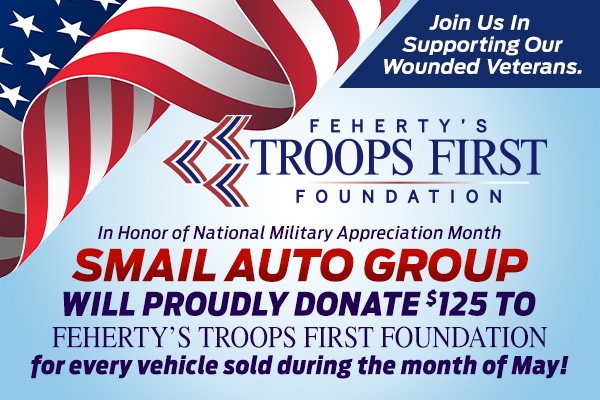 In honor of National Military Appreciation Month, Smail Auto Group will donate $125 to the Feherty's Troops First Foundation for every vehicle sold during the month of May.
Let's show our deep gratitude to those who have bravely served our country by helping them now in their time of need. When you buy or lease a new or pre-owned vehicle this month at any of Smail Auto Group's locations, you'll be supporting "Feherty's Troops First Foundation," and you'll be making a difference in the lives of a wounded service member.

They Deserve Our Thanks. They Deserve Our Help. They Deserve Our Gratitude. They Deserve Our Support.

Feherty's Troops First Foundation works to provide meaningful assistance to our military who have been wounded while serving in Iraq and Afghanistan. Through several relevant and unduplicated programs along with specialized events designed for OIF/OEF combat-wounded service members and their families, Troops First addresses relationship building, mentoring, reintegration and looking forward.

Over 90% of money donated to the Troops First Foundation goes directly to the troops and their families. Some of their programs and initiatives include:
Operation Proper Exit:
Operation Proper Exit is a unique initiative designed for Wounded Warfighters who are thriving in recovery and are capable of returning to theater. This program itinerary stages meet-and-greet opportunities with currently deployed troops as well as battlefield circulation returning the Warriors in many cases to the site where they were injured.
Operation Warrior Call:
The wounds of war, both visible and invisible, sustained by the force through multiple deployments have been well documented. Many service members return from the battlefield facing a host of serious challenges. Once home, the possibility of becoming disconnected from their fellow Warriors can be acerbated simply by the challenges and demands of everyday life. Moving forward, the health of the Warrior community can be strengthened by Warriors staying connected to Warriors. In response, we have launched Operation Warrior Call.
Leroy Petry Village of Honor:
In an effort to continue with the Foundation's mission of developing relevant initiatives to assist Warriors with reintegrating back to civilian life, they are building The Leroy Petry Village of Honor. This is a transitional housing program that will consist of seven single family fully accessible homes. These homes will be available at no cost to Warriors who are transitioning out of the military and have one to two years remaining at Walter Reed National Military Medical Center.
Join Smail and support Feherty's Troops First Foundation.