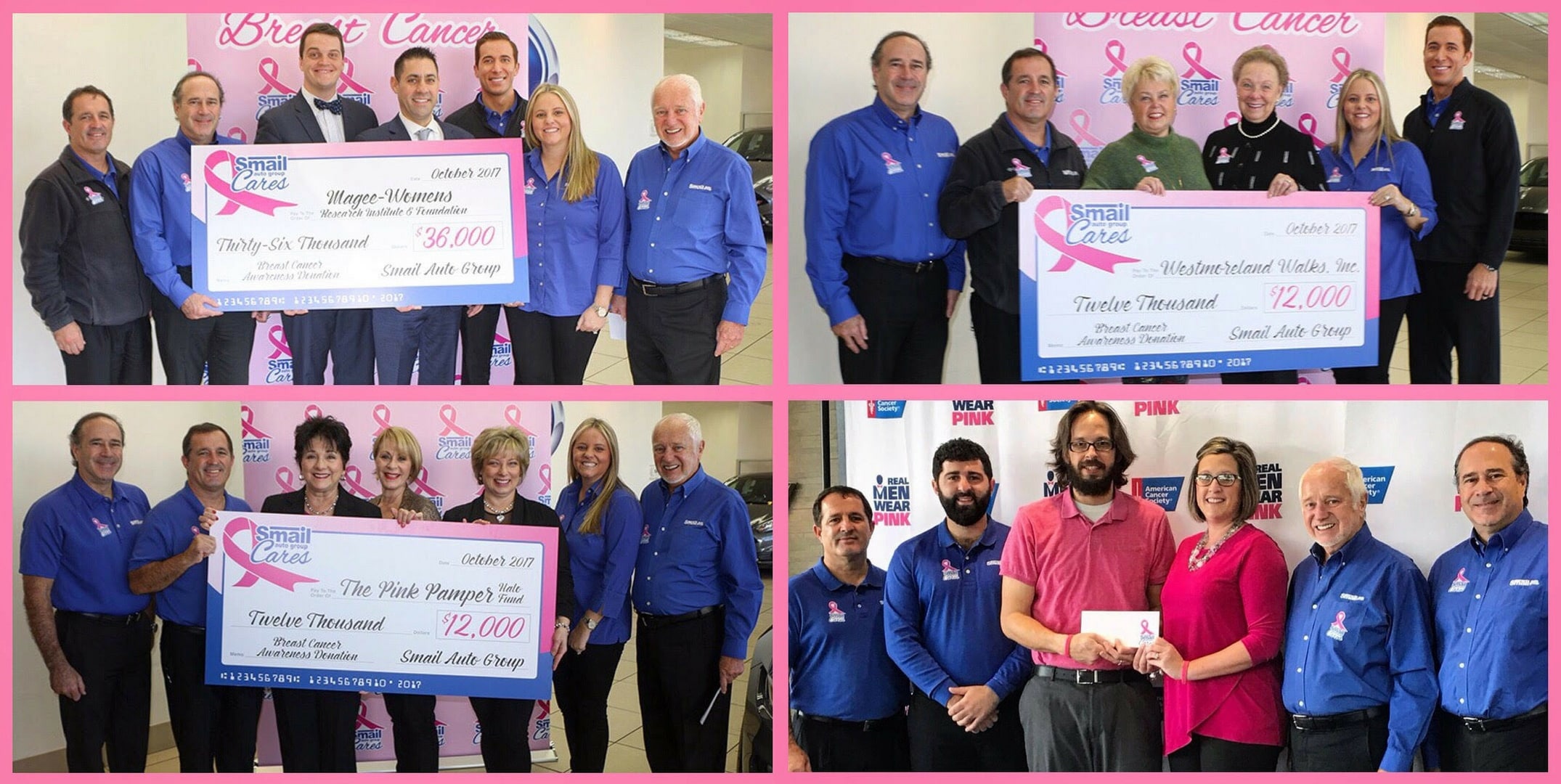 We are honored to have hosted our friends from Magee Womens Institute & Research Foundation, Westmoreland Walks, Pink Pamper, and Real Men Wear Pink of Westmoreland County to our stores to present checks for our donations to their charities. Each year it is a blessing to be able to help support the incredible work they do to fight breast cancer. Thank you to them for their continued efforts for the community.

MAGEE-WOMENS RESEARCH INSTITUTE & UPMC HILLMAN CANCER CENTER
UPMC Hillman Cancer Center at Magee-Womens Hospital of UPMC offers specialized medical oncology and radiation oncology. Their world-class team of cancer experts provides state-of-the-art individualized care. Magee has provided woman-focused health care since its founding in 1911. Since becoming part of UPMC in 1998, the hospital has been renovated and received substantial technology upgrades. The Magee-Women's Cancer Program, part of UPMC Hillman Cancer Center, offers individualized comprehensive care provided by experts in the supervision of women's cancers. The Radiation Oncology Program of UPMC Hillman Cancer Center is accredited by the American College of Radiation Oncology (ACRO). As the largest ACRO accredited system in the United States, the Radiation Oncology Program is committed to the highest quality in radiation oncology care. Click here for their video spotlight.

WESTMORELAND WALKS
Westmoreland Walks is a breast cancer awareness charity that organizes the annual "Pink Ribbon Walk" Taking Steps Against Breast Cancer at Twin Lakes Park in Westmoreland County. Throughout the year they also work with the Pennsylvania Breast Cancer Coalition, Spa Serenity Day, Pink Ribbon Scholarship, and the Pink Angel Fund. Click here for their video spotlight.

PINK PAMPER
The Pink Pamper is a non-profit organization of women raising awareness as well as funds for women's health initiatives. The Pink Pamper Halo Fund benefits individuals who experience hair loss due to medical conditions, by providing support and financial assistance toward hair replacement options. Debbie Mancuso, owner of Hair Enhancements of Pittsburgh, works with the Pink Pamper and Magee Women's Hospital, acting as a liaison for those in need of assistance for hair replacement. Click here for their video spotlight.

REAL MEN WEAR PINK OF WESTMORELAND COUNTY
Real Men Wear Pink of Westmoreland County is a distinguished group of community leaders determined to raise awareness and money to support the American Cancer Society's mission and save more lives than ever before from breast cancer. Smail Auto Group employee David Fedor is a proud member of the Real Men Class of 2017. During the month of October, David and the rest of the Class of 2017 are wearing pink while raising money and awareness for the fight against breast cancer. Events are being held throughout the area to raise funds; dinners, golf outings, guest bartending evenings, even professional wrestling shows. Click here for their video spotlight.