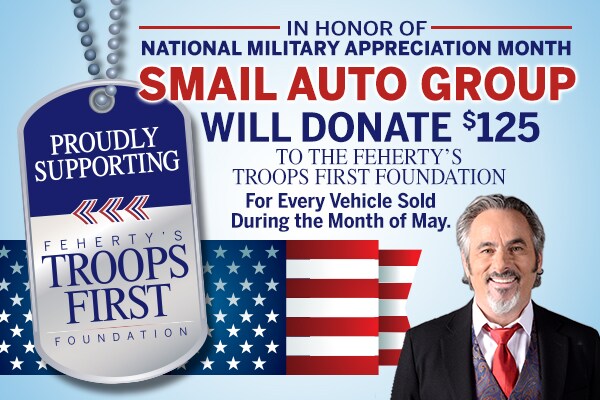 In honor of National Military Appreciation Month, Smail Auto Group will donate $125 to the Feherty's Troops First Foundation for every vehicle sold during the month of May.
Let's show our deep gratitude to those who have bravely served our country by helping them now in their time of need. When you buy or lease a new or pre-owned vehicle this month at any of Smail Auto Group's locations, you'll be supporting "Feherty's Troops First Foundation," and you'll be making a difference in the lives of a wounded service member.


They Deserve Our Thanks. They Deserve Our Help. They Deserve Our Gratitude. They Deserve Our Support.
Feherty's Troops First Foundation works to provide meaningful assistance to our military who have been wounded while serving in Iraq and Afghanistan. Through several relevant and unduplicated programs along with specialized events designed for OIF/OEF combat-wounded service members and their families, Troops First addresses relationship building, mentoring, reintegration and looking forward.
Join Smail and support Feherty's Troops First Foundation.