$63,500 Donated to Local Breast Cancer Charities in 2019 Smail Cares Campaign
Since 2011, Smail Auto Group has donated to several local breast cancer charities though our #SmailCares Campaign. This year, we partnered with Magee-Womens Research Institute & Research, Westmoreland Walks, Pink Pamper Halo Fund and the American Cancer Society's Real Men Wear Pink. These non-profits focus on breast cancer research and awareness, outreach, patient support programs and scholarships, hair replacement options, early detection and prevention through education.
Our fight against breast cancer campaign raised awareness by displaying Smail Cares pink camo ribbons on our buildings and many of our vehicles throughout the county. We sold pink bracelets, and employees wore pink to support all of the efforts.Jeff Smail, Jr. was a 2019 Real Men Wear Pink representative for the American Cancer Society of Westmoreland County. We sold Smail Real Men Wear Pink t-shirts for this campaign and held a Spirit Day campaign with our local Chick-fil-A.
As a result of these efforts, we raised $63,500, which brings our eight year total to approximately $542,500. We are proud to present the following donations this year: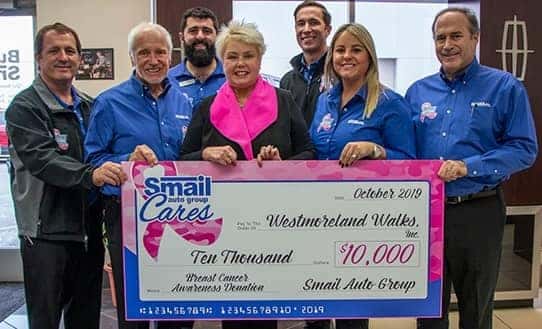 From left: Jeff Smail, Sr.; Jim Smail; Jeff Smail, Jr.; Kathy Brown, President Westmoreland Walks; Karl Schneider; Lindsey Smail-Schneider; Mark Smail
From left: Jim Smail; Jeff Smail, Sr.; Jeff Smail, Jr.; Dawn Keefer, American Cancer Society Real Men Wear Pink; Lindsey Smail-Schneider; Marcus Smail; Mark Smail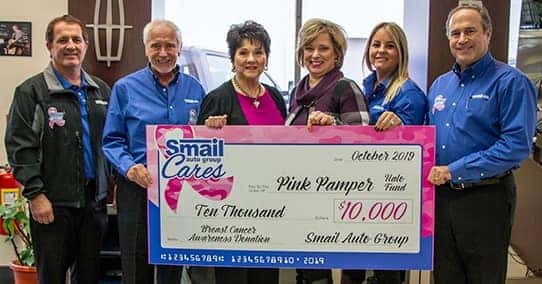 From left: Jeff Smail, Sr.; Jim Smail; Marian Geisler and Lea Ann Rattigan, Pink Pamper; Lindsey Smail-Schneider; Mark Smail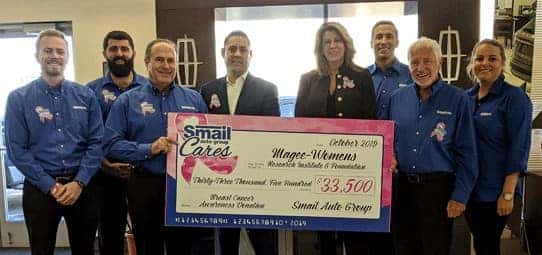 From left: Marcus Smail; Jeff Smail, Jr.; Mark Smail; Michael Annichine, CEO and Janice Devine, Executive Director of Development, Magee-Womens Research Institute & Foundation; Karl Schneider; Jim Smail; Lindsey Smail-Schneider